Media Release
A Sydney chiropractor has rallied support for two of Australia's most promising track and field athletes as they leave the country next week bound for the IAAF World Junior Championships in Oregon, USA.
Runner James Kermond, 17, will compete in the individual 200m and the 4 x 400m relay and Jack Hicking, 19, will be the first NSW male pole-vaulter to compete at the championships.
Both athletes, from Padstow Heights in Sydney, started their career at a young age with the Bankstown Sports Little Athletics Club.
Revesby Chiropractor, Dr Christopher Kelly has been treating them to overcome their injuries ensuring they are in peak condition and has rallied the support of his colleagues to provide sponsorship for the trip.
He said chiropractic care had been as essential part of their preparation for remaining healthy and competing successfully.
"Chiropractors have a long history of working with young track and field athletes both locally and on the international stage, including Jamaican superstar Usain Bolt and Olympic decathlete Dan O'Brian.
"Chiropractic is an essential aspect of an athlete's health care. The human frame must be well aligned and balanced in order for the muscles to work efficiently and with maximum output. Athletes are like Grand Prix cars, they require tuning up before the event to maximise their performance."
Dr Kelly has been working with James Kermond since 2007 to provide treatment to improve his athletic ability and James Hicking sought treatment for ongoing issues due to the repetitive strain of pole-vaulting, allowing him to now jump pain free.
He said as more young people take up professional sports, constant maintenance was essential to ensure their longevity in the sport and to avoid long term pain as they age.
"Every chiropractor has come across retired sports people who suffer from chronic joint pain as a result of the sport that they played. Usually these injuries are ignored, or treated inappropriately so that only symptomatic relief is given.
"Our aim though, is to prevent these injuries from occurring in the first place. It's important to remember that every day that an athlete is not injured is a day that they can become fitter and more technically sound."
The President of the Chiropractors' Association of Australia (NSW), Dr Joseph Ierano said he was proud to back Jack and James at the World Championships providing sponsorship of $2,000 each.
"Often the families are supporting the full travel costs for competitions and health care expenses. We are proud to help both of these young athletes and wish them all the best on the world stage."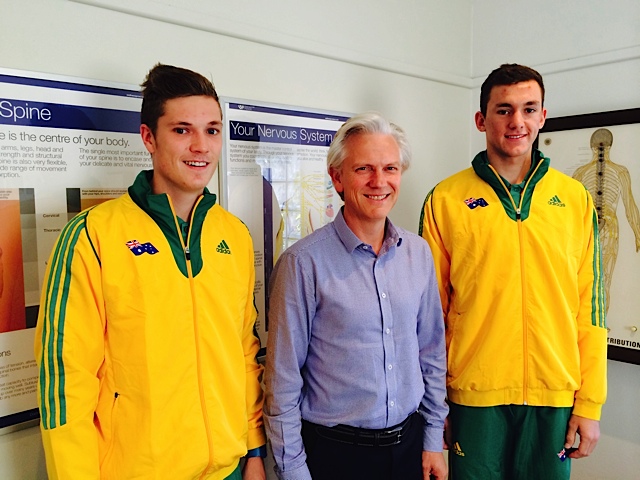 Biographies
James Kermond:
James's inclusion in the Australian team at the IAAF World Junior Championships is the culmination of 13 years in the sport. He started in athletics at the age of five as a "tiny tot" with the Bankstown Little Athletics club.  He remained with the club through to Under 17's and is now a life member.  In addition to his State and National titles, during the 2013-2014 season, James was invited to compete in the Australian Athletics Grand Prix Series (Track Classics) events in the Hunter, Adelaide and Peth, as well as the IAAF Invitational meet in Melbourne.
His inclusion in the Australia team for the World Junior Titles is an important step in his plan for representing Australia at the 2016 Olympic Games in Brazil.
Jack Hicking:
Jack's passion for pole-vaulting began at age 13 after being asked to 'come and try' the sport by a coach at a local track. From there he started training a few times a week and excelled at both NSW and Australian Championships. In 2011, he took on Hungarian Pole Vault Olympian, Zsuzsanna Olgyay-Szabo as his new coach. Since then he has won five national junior titles and another five podium finishes. Currently ranked 1st in NSW in the open men's Pole Vault and 13th on the Australian junior all time list after jumping a personal best of 5.05m this season.